GREAT PRICING for fishing enthusiasts!

Fish Dry Tortugas | overnight fishing in Key West

Welcome to Captain Eddie's Saltwater Fishing, Key West Charters, Overnight Fishing Trips
The water is great, the temperature outside is perfect and the fish are biting. The following prices are for the whole boat which holds six people and includes extras!

Click the play button to see our video!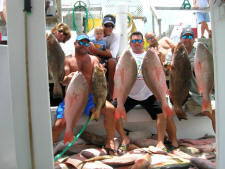 Big Fish, Great Stories
Come back to shore with a fish that lives up to all of those great fishing stories. The only question you need to ask yourself is where you are going to wind up putting it!
Wondering about the weather?
Need to know for your upcoming trip? Would you like to know if we have some good fishing weather for you to come out and join us? Just click on the image to the left and find out!
Fishing notes
Dolphin is one of the most popular fish in the Keys. We catch Dolphin anywhere from 3 to 60 pounds. They are beautiful with bright blue and green colors and it's a very fun fish to fight. There's nothing like a fresh Dolphin for dinner!
Yellow tail Snapper is a saltwater fish caught on the reef, 20 to 120 feet of water. Yellow tail come in big schools right behind the boat. You can spot a Yellow tail Snapper because sometimes they stick their tails out of the water.
Mutton Snapper is a white and pink fish that we catch anywhere from 20 to 220 ft. Muttons average from 2 to 22 pounds. Muttons are a great bottom fish to fight.