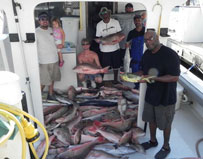 Permission to come on board?
Permission granted! Check out these low rates when you are deciding on your next fishing adventure. And, with our 43 feet long Torres boat with all modern conveniences and 6 stern fishing locations, you won't be disappointed on your ride out to find the next big one! The following packages include the boat, fuel , bait and ice, and live bait if possible.
All prices cover the owner operated boat....Maximum of 6 people...Prices subject to change.
Stay on the night before the trip for an extra 200 dollars.